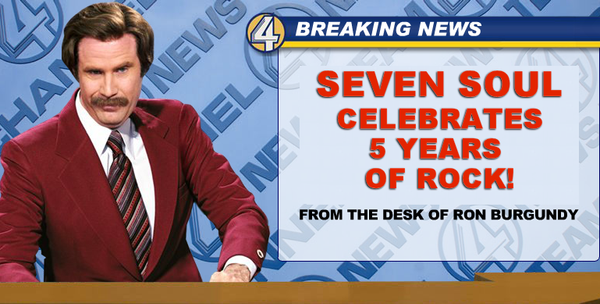 Has it really been FIVE YEARS??? 
YES! And, we have an ULTRA-SPECIAL party planned to celebrate with the ones who made it possible.... YOU! 
Here's what you can expect... 
ALUMNI APPEARANCES! Come hear your favorite alumni perform their best hits! 
FREE COMMEMORATIVE T-SHIRTS! You celebrate 5 years only once, and we have FREE limited-edition shirts to commemorate the event. There's only ONE way to get one... be one of the first 50 to show up. Detailed instructions will be emailed to Soulmates soon, so sign up TODAY!  
FREE GIVEAWAYS and RAFFLES! We have a new look for 2018, and we have plenty of giveaways for you, including wristbands, hats, buttons, travel mugs, and more! 
LIVE MUSIC! You'll get a chance to hear Seven Soul, old and new! Plus, we have special guests Stereo-Fi helping to kick off the night... these guys ROCK!!! 
FUN! If you haven't seen us recently, you're in for a treat... lots of dancing, drinking, high-fives, and hi-jinks are in store! 
Plus, get captured by JPM Photography - Your Dreams Captured! 
So, make plans now to come see us on Friday, April 27 (check the Calendar for details)! We couldn't have made it this far without all of you, and we really don't want you to miss your party!