All it takes is first grade math to know that Seven Soul hasn't been exactly accurate, as of late. With only six members on recent stages, what's the deal with the extra soul?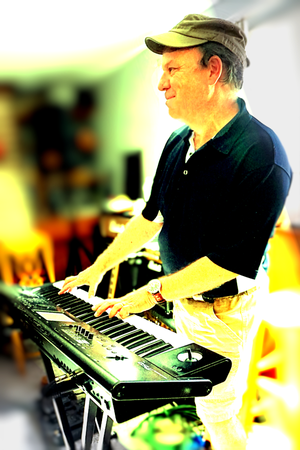 We finally have the answer...  
Please, give a warm Soulmate welcome to our newest member, Tony "the Unicorn" Keys! That's right, he's one of those rare breeds that plays keyboard and guitar, and we can't wait to unleash his talents on you.
Long ago, Tony's mother urged him to take music lessons, predicting "Someday you'll thank me for this!" Dutifully, Tony followed his family's musical footsteps and started music lessons at age 9. Although his early lessons were rooted in Classical, his 12-year-old heart turned to Rock when he and his buddies started their first garage band. His early musical influences included British Invasion and American 60-70's rock, such as the Beatles, Stones, Procol Harum, Doors, and the Allman Bros. Since then, Tony has played venues far and wide, from Manchester England to BB King's Blues Club in Los Angeles. 
More recently in Chicago, Tony has played with Alter Ego, Double D and the Sensations, 8trak, and 45 RPM. But now, he's happy to join forces with Seven Soul! Next time you see him, listen very carefully—through gritted teeth, you'll hear him whisper, "You were right, Mom."
We already feel his influence in rehearsals, and your first chance to hear for yourself is our next show:
H.O.M.E. BAR • Arlington Heights
Saturday, Aug 17
Doors at 8
Don't miss it!